2x CACIB Dog Show Szentlőrinc / Hungary
April 30 - 01 May 2022

April 30, Saturday


Khyannes Dorian Gray 'Dorian' - Very Good :-)
Gameglow Fire and Ice 'Fire' - CAC, CACIB, BOB


With this result, Fire became Hungarian Show Champion!

May 01, Sunday


Peter Pan de Moca Croce 'Devereaux' - CAC, CACIB, BOB
Khyannes Chasseuse 'Brie' - CAC, CACIB, BOS
------------------------------------------------------------------------------------
Basic Hunting Test in Martonfa, Hungary
24 April 2022

We took part in another hunting test last weekend with Fire and Dorian.
It was no big deal for Fire as her knowledge and experience in hunting is much above this
level but she did not have this exam yet so I entered her.
She ended up losing only 1 point so she almost passed it with maximum scores.
It was Dorian's first exam so I was more worried about him, however, he always
did well during the training.
He did well too, he got only two 3s. With this exam he became an official stud dog.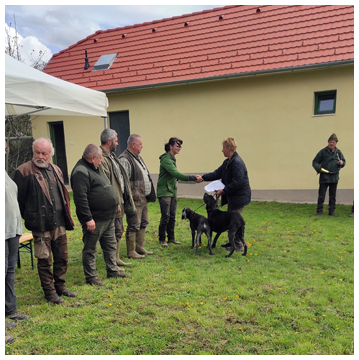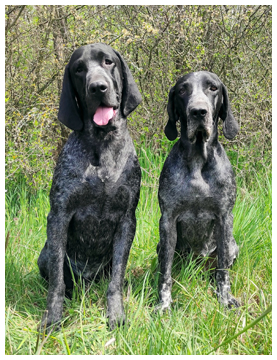 --------------------------------------------------------------------------------
Our latest health tests
Khyannes Dorian Gray 'DORIAN' - HD A, ED 0:0, OCD free
Khyannes Blanche'BLANCHE' - HD B, ED 0:0, OCD free
Khyannes Fantastique 'FANNY' - HD A, ED 0:0, OCD free
Khyannes Ébéne 'EBONY' - HD B, ED 0:0, OCD free
Khyannes Houssard 'LOUP' - prescanned at the age of 6 months - free of HD
Khyannes Houille Noire II 'NOLEEN' - prescanned at the age of 6 months - free of HD